束の間の、つなぎのようなもの

- That is, like a brief moment to be filled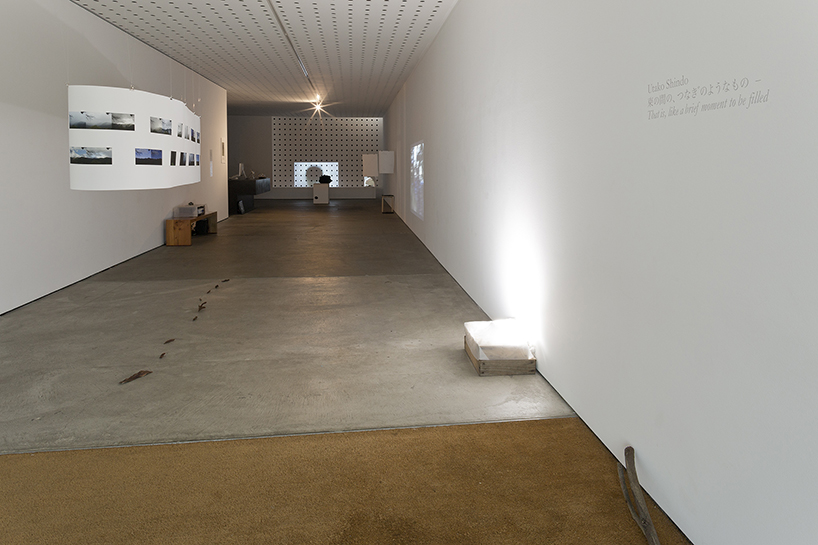 Solo Exhibition
photo credit: Christian Capurro
Solo Exhibition
08 June - 23 July, 2017
Centre for Contemporary Photography, Melbourne, Australia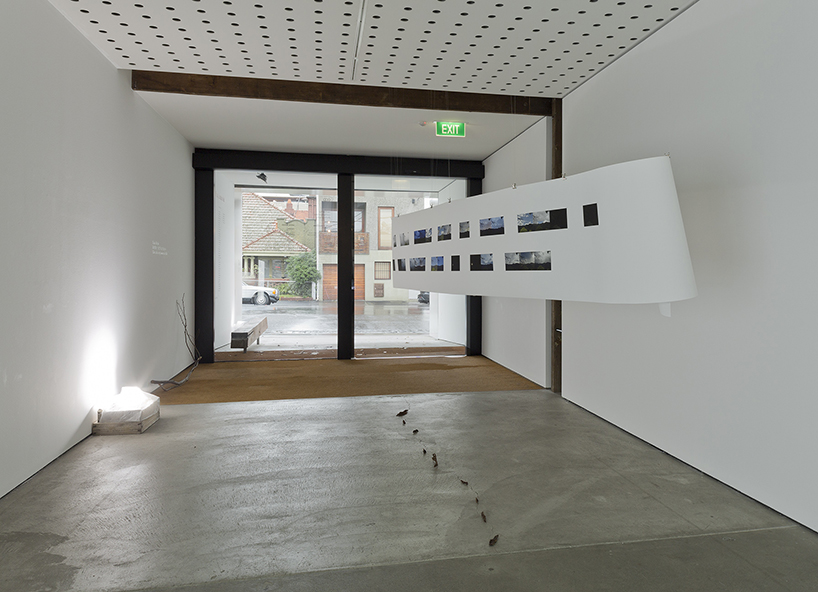 Past of Sound
2017 / archival digital print (60 x 490 cm), fishing wire, letter clips, barks of spotted gum trees, LED light, music piece (3 min 18 sec) by Feathered Friends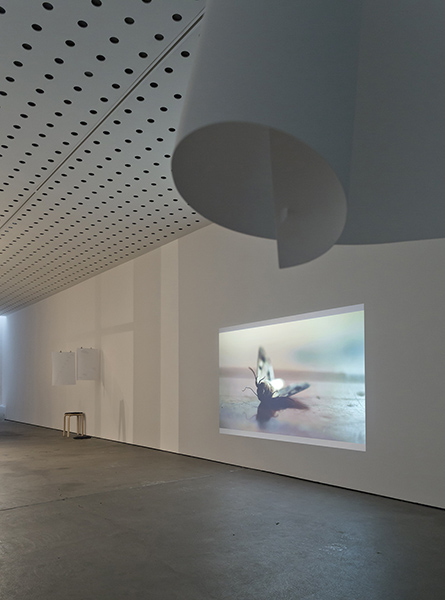 Imago
2017 / video projection (12 min 20 sec)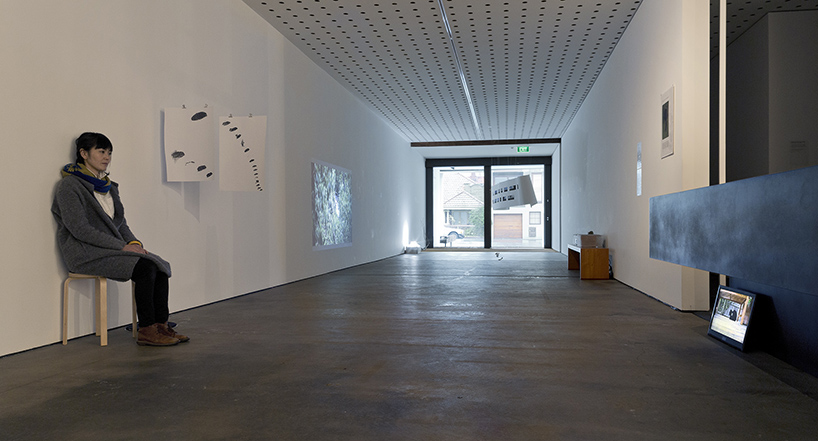 束の間の、つなぎのようなもの - That is, like a brief moment to be filled
Installation View (sections)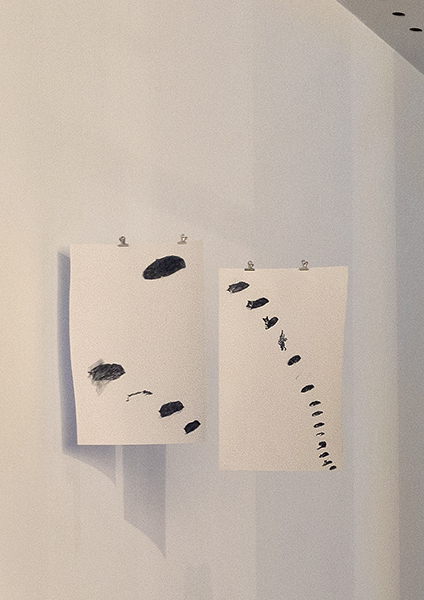 She remains here through my feeling her
2017 / charcoal on drawing paper, fishing wire, letter clips / 59.4 x 84.1 cm (a set of two sheets of paper)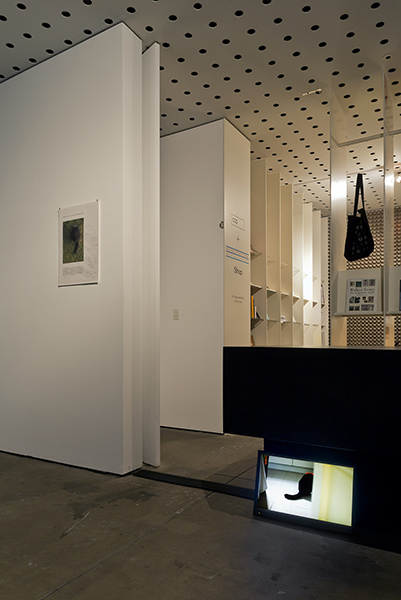 Inserted comma, Zero _ with footnotes (left) & 00 (bottom right)
2017 / archival digital print / 59.4 x 42 cm
and 2017 / video work on monitor / 11 min 54 sec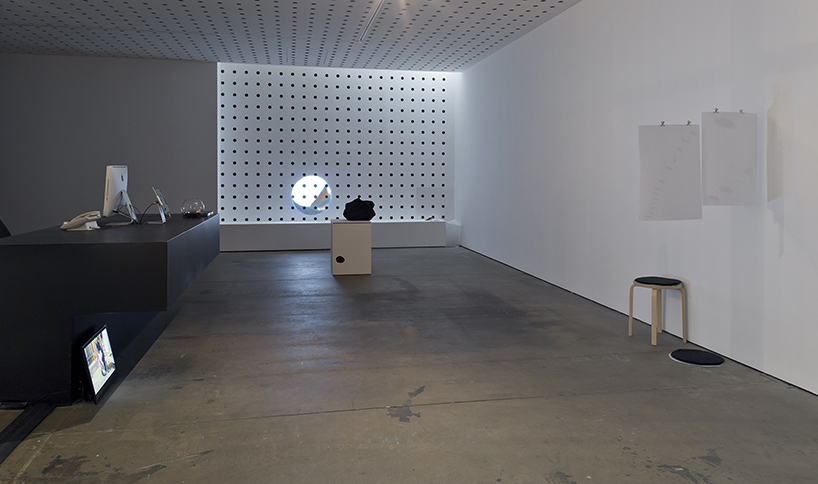 束の間の、つなぎのようなもの - That is, like a brief moment to be filled
Installation View (sections)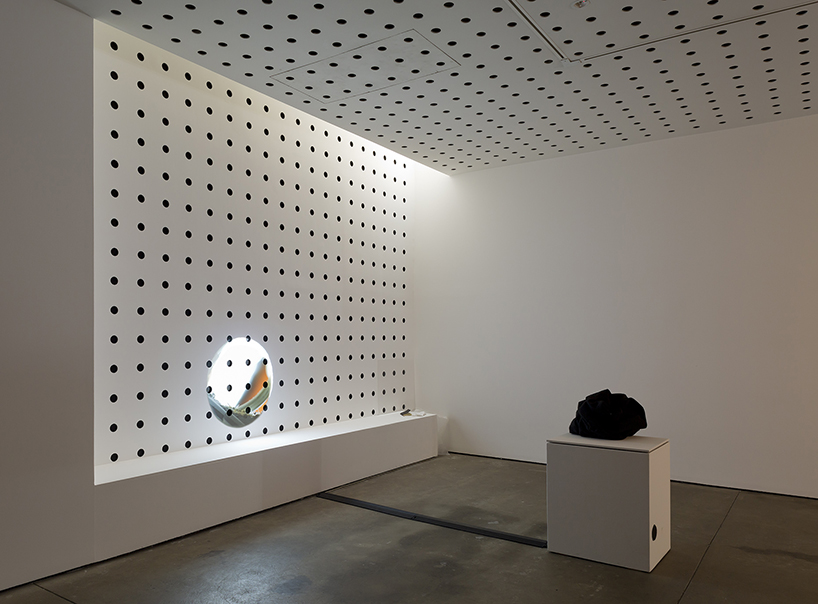 Through the darkness where the light is the ephemeral _ the half-light,
through this building which she speaks to (front) & Conversation piece (back)
2017 / video projection (14 min 8 sec), fabric in forming, plinth with a dot painted by Jade
and 2017 / scrapbook with interviews and writings, Muji pocket note book, aesop wrapping paper /10.5 x 14.8 cm
束の間の、つなぎのようなもの

- That is, like a brief moment to be filled

A cat is liquid like

a hole in the wall is like a lens
a building is like an hollowed container

It is a projection of time through something that doesn't move

Where does a mountain end?
The line is movement, the movement is life

The pulse of the building continues to bleed, like rain,
falling onto what enters to the lower, and to the upper gallery

A life comes and goes through this building
which she speaks to, through which she feels the half light

The ending of it is lost, though
as it always leads us back to the beginning, where it is supposed to be

A moth,
nearing its death
a moment, for a breath
Imago flying

You see through the gap, the slit, and the hole v the darkness where the light is the ephemeral

That is, like a brief moment to be filled

fertile silence, an inserted comma
the cat disappears into shadows, a nuance of love

she remains here through my feeling her
an opening line of lament

June, 2017



The works in the show are produced and developed through the generous and inspiring support from Bogong Centre for Sound Culture, Bundanon Trust Residency, Centre for Contemporary Photography, Michel Szczepanski (VCA Digital Hub), Centre for Ideas (VCA&MCM), Neil Malone & Fran Van Riemsdyk, and fellow residency artists, friends and families. Thank you.